A lot has happened since my last post – here's a quick list:
I was away from the real world at Camp Loucon for a week
My band shot a video (we're actually not appearing in it, and I was just the guy holding a sweat rag for between takes)
We realized out that our construction loan was expiring in August, so we scrambled to get everything in order to refinance the loan to a normal mortgage.  (Don't worry, Dave Ramsey – it's a 15 year, and we have more than 20% equity in it!)
Part of what we had to get in order was the house.  So, we quickly tallied up what we had to get done to have an appraiser come by.  Another list!

We had to pour the concrete for our front porch and sidewalk
We had to fix the septic tank cover that broke when the concrete truck drove over it while pouring front porch and sidewalk (which involved me pouring a literal ton of concrete – yes, over 2,000 pounds – after my uncle helped me form a new tank lid)
Putting all the hardware on the kitchen cabinets
An immense amount of painting, staining, and polyurethaning
Lots and lots and lots (and lots) of general fixes around the house
Cleaning
Anything else not mentioned above that might make a big difference in an appraisal

Multiple trips to various county government buildings to pull or file forms needed for closing, requested from my bank AFTER they needed them, which has resulted in pushing back our closing date twice.
On Friday we got our final inspection from the county, and the day before we had an appraiser come out.  So – barring anymore stupid requests from our bank (we've not had great experiences with them, so I won't link them or give their name – ask me if you want to know who to avoid), we're DONE!
Back to what I know all of you have come to see…
My Bees are Trying to Kill Me
I guess it's only fair that my bees are ramping up their venomous attacks on me, considering I kill a few of them each time I move their homes…  When I first got stung, I had fairly minor swelling (not to mention a fever and convulsive shaking), so I assumed that future stings would give me less of a reaction.  On the contrary – I've been swelling way more.
First – how I got stung:
A few weeks ago, I was inspecting my hives like any normal computer programmer does.  It's been a surprisingly cool summer in middle Tennessee, but that's not to say it's cold, but rather low 90's.  When I do my hive inspections, I wear long sleeves, long pants, long gloves and a bee veil.  As such, I get very hot.  And I sweat.
There have been a number of times that I have mistaken sweat slowly dripping down my leg as a bee, and had to calm myself down at the thought of a tiny stinger zeroing in on my nether regions.  "That's sweat moving down, David," the inner dialogue usually goes, "bees would start at the bottom of the pant leg and move up."
But this time…  This time the sweat was moving up.  Wait – not sweat.
I honestly didn't know what to do.  At first, I just thought I'd leave it alone – it crawled in, so maybe it will crawl out.  When it got to my inner thigh, however, I knew it was time for action.
I swatted my leg out of sheer terror.  No plan, just swat.  It's obvious what the outcome of that would be (though I didn't think of that at the time), but I'd much rather she sting me on the thigh while waltzing up my leg than pretty much anywhere north of there.
After I had sat the box full of bees down, I ran through the woods trying to get far enough away to…
…take off my pants.
Well, not all the way, but enough to get the stinger out of my inner thigh and allow the dead bee to roll out onto my sock.  It had to be a funny sight – a guy completely covered from head to toe except for the exposed underwear.  Or creepy, at least.  Good thing my neighbors aren't too close.
I finished the rest of the inspection after tucking my pant legs into my shoes.  I've heard other beekeepers suggest wrapping duct tape around your pant legs, but I was always under the impression that it was to prevent ticks.  I will soon add duct tape to my beekeeping equipment.
Immediately, the sting was just annoying, but not too swollen.  The next morning, however, it took up my entire thigh.  I drew a sharpie line around it to keep an eye on the swelling.  I popped benadryl and used a topical antihistamine cream for the next few days – and eventually it went away.
So, on my next trip out to the hives, I started out by tucking my pants into my shoes.  (Still need to get that duct tape)  All went perfectly during the inspection, but when I was taking off my gloves I didn't realize I had a bee in my elbow pit.  When I bent my arm, it knew of its impending doom and went out in a blaze of glory.
Day One:
Day Two: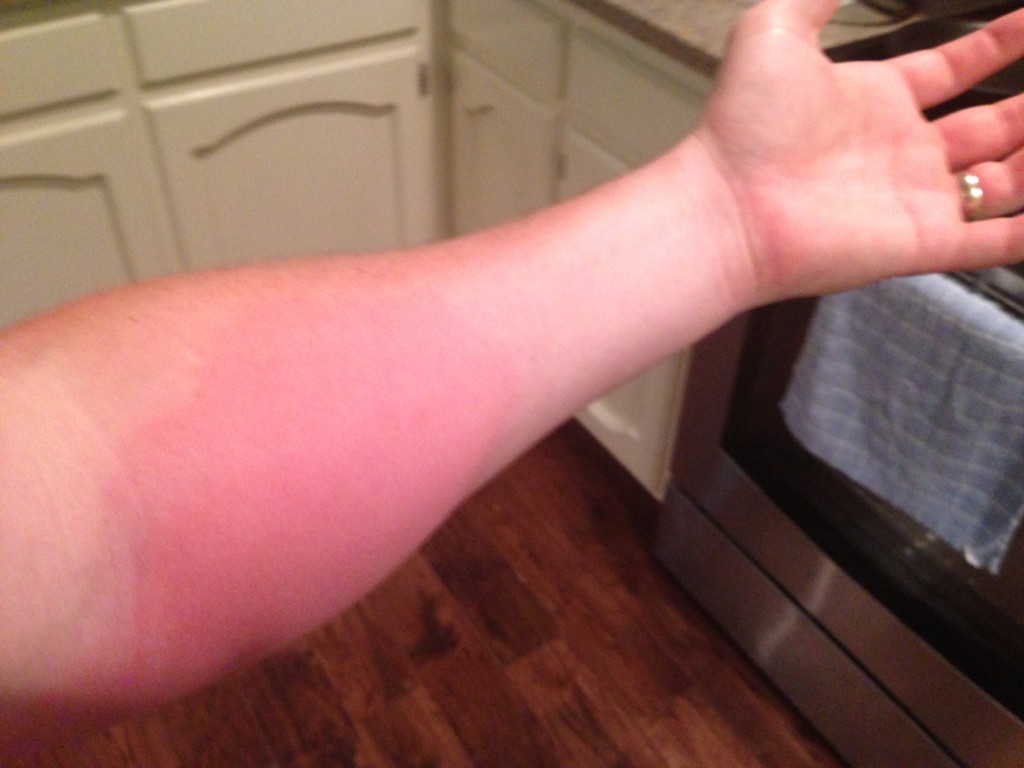 Sheesh – looking at them back to back makes me think I might have actually had a bad reaction.  I haven't learned my lesson, though – luckily.  At least it takes a day to swell, and not a few minutes.  That'll give me enough time to drive to the hospital if needed.
Again, benadryl and antihistamine cream, and I'm right as rain.  Though I have discovered that non-drowsy benadryl causes me to sleep for a very, very long time in the middle of the day.
CHICKS!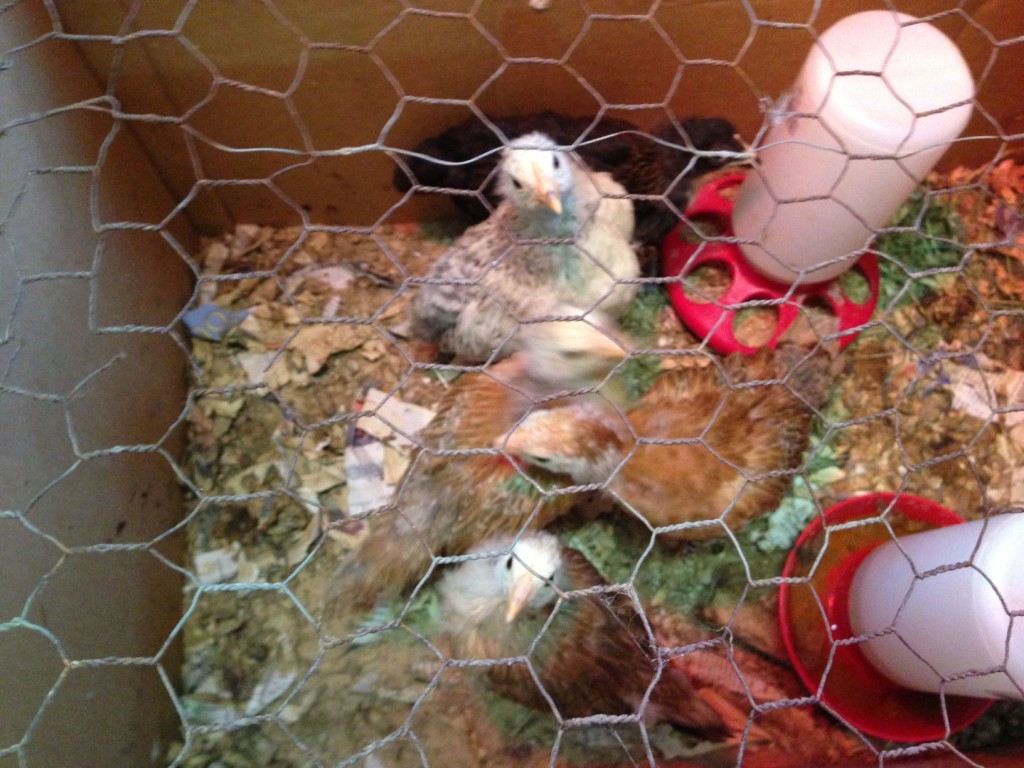 Er – wait…  Not really chicks anymore.  These are like…  Chickens.  Or at least fowl teenagers.
They're not full grown yet – they hatched about a month ago, and it could be a couple of months before the hens start laying – but I'm amazed at how fast they have grown.  Before I left for camp, they definitely had grown since the furballs hatched – but when I got back, it seemed like someone replaced them with larger, feathered creatures.  I wish I got a better picture – but hopefully you can see just how huge they've gotten compared to the feeder.
I had to give them a bigger box and put a bit of chicken wire on top because they would flap their wings anytime they're nervous.  A couple of days ago, I went out to the garage (where they're staying now), and one of them was standing on top of the box.  Luckily, I think it was scared of its newfound freedom, and was just walking around above the other chickens, not wanting to let them out of its sight.  There was a fairly small opening on one side of the box where the chicken wire was too short, so I had to cover it.
I'm not a Murderer!  …I think…
[***Warning – pictures of dead chicks ahead***]
After the remaining eggs sat in the incubator a day or two after they should have hatched, I decided to play detective to see if I could find out why they didn't hatch.  What I found was a fairly interesting progression of chicken development.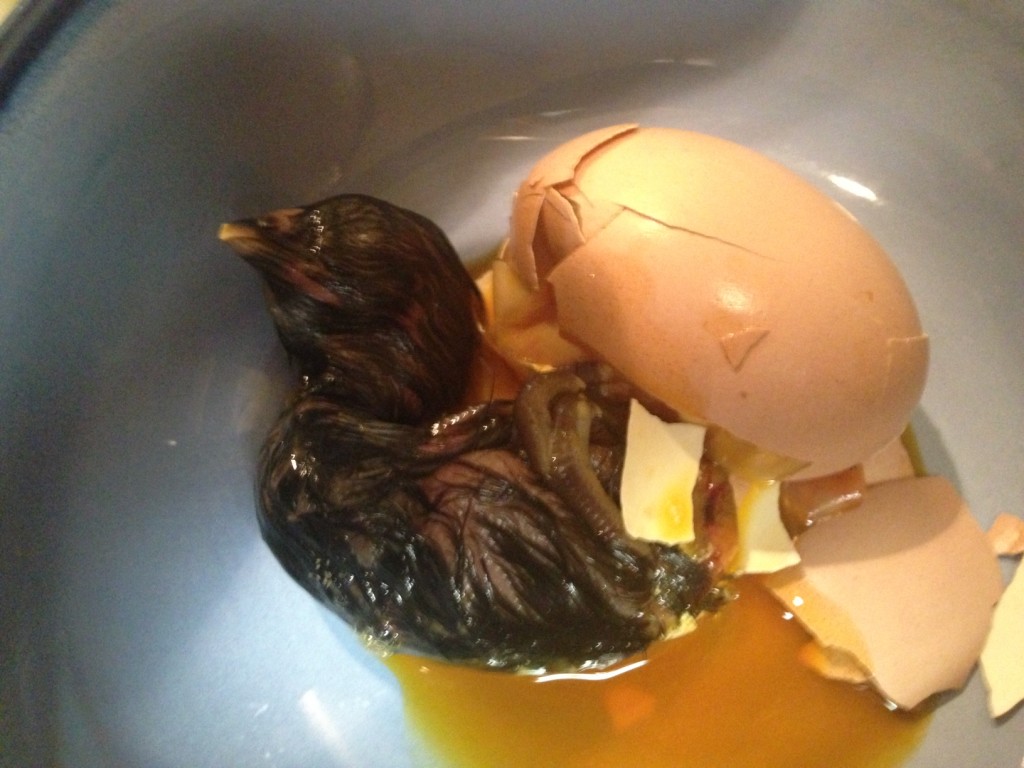 Ok…  So – I might have killed this one.
It's pretty much fully developed, and I think it died just before eating the yoke (which busted when I cracked it open).  Heck – the picture looks like it's ready to chirp.  But it won't chirp.  It will never chirp.  I blame myself for opening the incubator too much.
After that, in the order I opened them, they get smaller and less developed.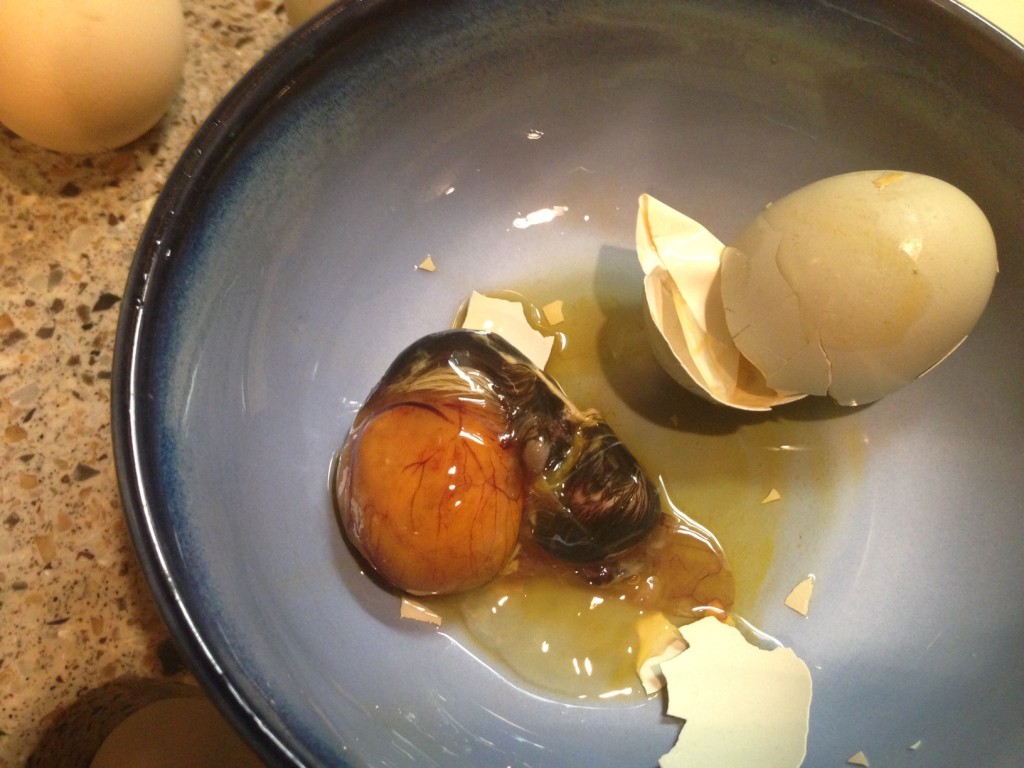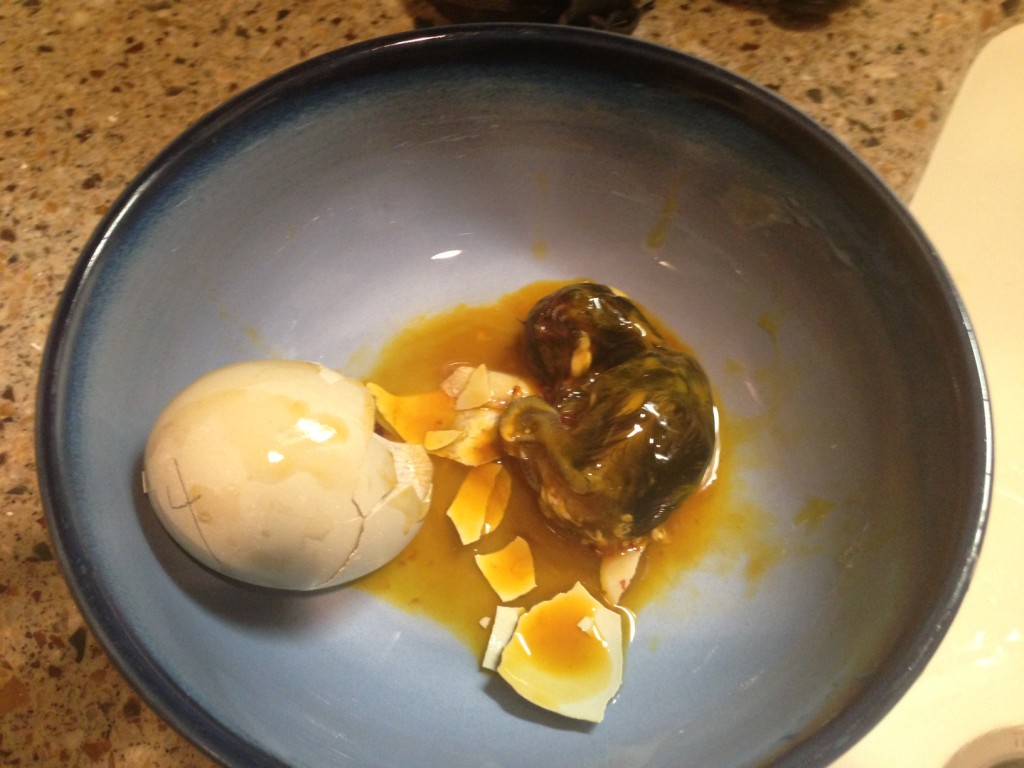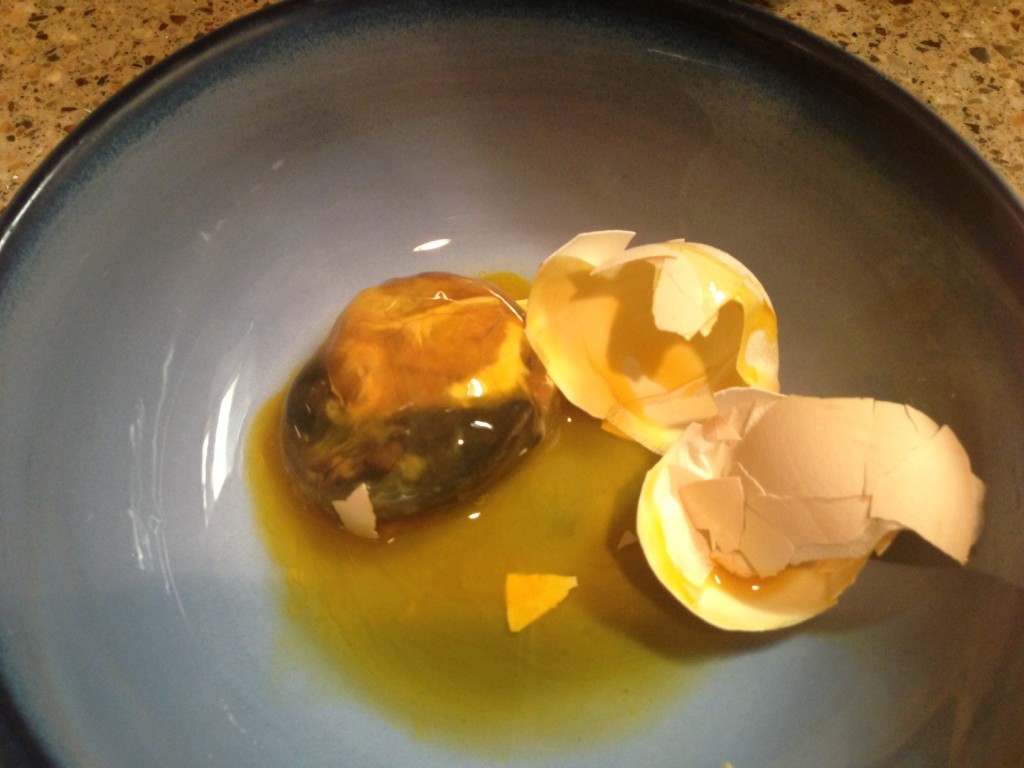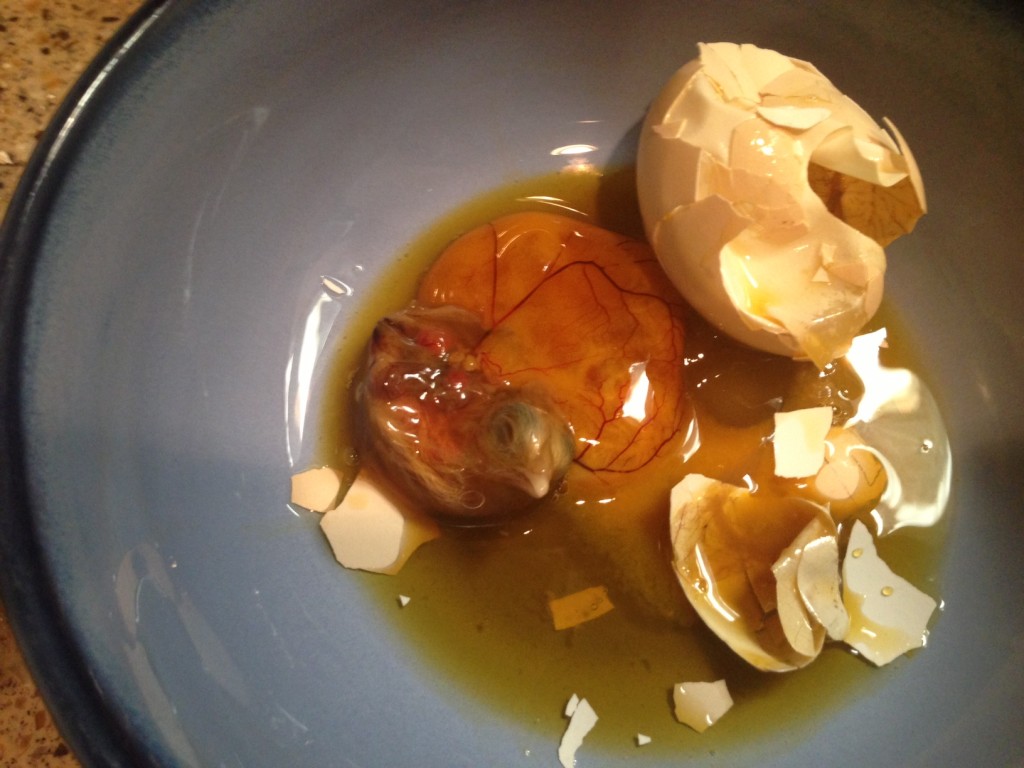 They might have died for any number of reasons, but one reason could be that the temperature wasn't perfect, and that I didn't have anything circulating the air in the incubator.  But this is speculation, which I'm probably not even close on.  Some detective…
It's probably good that only five hatched, though – because I'm definitely running out of space in the current brood box.  I started building a chicken tractor on Saturday, and I'm fairly close to finishing it.  (I wanted to finish this post before adding anything about the chicken tractor, so that I have two blogs rather than one at 5000 words)
Because of everything that's been going on my world, I probably wouldn't have been able to build the chicken tractor sooner, which means they'd all be sitting on top of each other right now.  Currently, they're merely sitting very, very  close to each other.
[Actually, I've already moved them into the run on the chicken tractor, which is unfinished, because it's taken me almost a week to finish this post…]
So – next time you tune in, I'll have a bunch of fun pictures of building a chicken tractor.  I promise, no pictures of dead chicks.  Well – unless one of my chickens dies and I feel like it's worth posting a picture.  But even then – not a chick.
But I'll leave you with a teaser on the chicken tractor production: