It took every ounce of willpower in me not to make a title like "I'm Surrounded by Hot Chicks" or the like.  I mean, that would probably get more hits from search engines…  I've already warned my wife that I'll be using puns like that often from here on out.
I've got chickens!
Late Friday night, I thought I started hearing chirping sounds from my incubator – which I found a little strange, because none of the eggs had hatched…  I checked and rechecked, and each time I stood silently by the incubator I heard nothing.  As soon as I left the room, though, the little high pitched sounds drifted around me.
I thought I might be crazy, because hearing chirping from inside an egg would be a lot like hearing a baby crying while still in the mother's womb.  Maybe that's happened before, but I'm not aware.  And it would be very weird.
Around 3am, I was still awake, and checked on the eggs one last time before going to bed, and I did indeed hear the chirping coming from the incubator while my ear was right beside it.  I'm not crazy.  *whew*
I then woke up at 6am to the lively chirping of a definitely hatched chick!  (I don't think I've mentioned before that the incubator has been in my dining room, much to my wife's chagrin)  I tiptoed out of my bedroom and found this little guy (or girl) wondering what in the world was going on…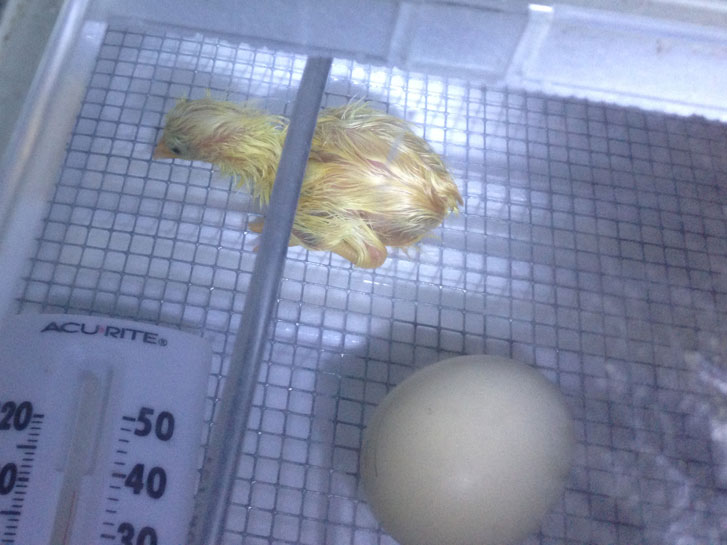 My brother had told me not to open the incubator once they started hatching because any drastic change to the temperature or humidity could kill the unhatched chicks (either drowning them because the air bubble inside gets too small, or shrink wrapping them with the shell membrane), and I had confirmed it from websites that I'd been reading.  But in that moment, my excitement trumped any logical thought I had in my head.
I started freaking out because the humidity gauge was reading a little high, and I was scared that the open egg was – well I don't know why I was scared of the open egg.  I opened the incubator without thinking, and put him in my temporary brooder and grabbed the broken eggshell.  I then had a thought that the egg might need to stay with him (because before they hatch, they eat the rest of the yoke, and I had the thought that maybe they continue to nibble on it), so I googled it.  I would be lost all the time if not for Google.
Google shamed me for opening the incubator, and reminded me that I needed to leave all chicks in the incubator until they were dry and fluffy.  As you can see from the above photo, it was definitely not dry and fluffy.  So I again opened the incubator and put it back inside.  Surely I learned my lesson, right?
I stared at the little guy (girl?) for a while, and then realized it was barely after 6am, and I went to bed at 3am, so if I didn't go back to bed I would probably collapse soon.  I could survive on three hours of sleep in college – and did often, sometimes resulting in the best test scores of my college career – but I can't do that anymore at 31.  I'm getting old.
So after a few more hours of shut-eye, I bolted out to the dining room to see what else had occurred.
Not much.
I did see a few eggs with some tiny cracks, which my brother informed me to be called "pipping."   Basically, the chick inside is pecking at the shell and makes a tiny little hole, and they could hatch anywhere from immediately to 48 hours later.  So, I did what any rational person would do: I stared at the eggs for a very, very long time.
The day before, I had decided that I was going to get a lot done on this day, so I motivated myself to get on with my pre-determined projects.  Literally every 20 minutes or so, I'd hover over the incubator to see if anything else had happened.  Around noon, the second one emerged, and the first knew it was time to establish the pecking order – which I now know to be a very literal phrase.  Kind of the oldest-child syndrome to the violent extreme.
In no time, both of these little dudes were dancing around and climbing all over the other eggs, rolling them around like they were playing a game.  I'd probably be freaking out again, but I'd read that that's ok, and it, along with chirping, actually inspires the other chicks to hatch.  It took a while longer (while I was busying myself with other projects), but a total of four eggs hatched that day.
I won't lie.  I opened the incubator a few more times.  I was still freaking out about the humidity, and was terrified that the unhatched chicks were going to die because it was 1% off.  I also got impatient, because one little guy worked on breaking out for hours and hours, and I helped him along a bit.  At first I thought that I hurt him, because when he got completely out he was still connected to the egg by his bum.  I did some more googling, and found out that his umbilical cord was still connected – which happens occasionally – and it would fall off soon enough.  I couldn't help but think that it was because I tried to step in…
After a lot more checking and rechecking, I went to bed that night.  This morning, I woke up to another chick!
Nothing else really happened – we went to church and when we got back they were all pretty much fighting as siblings do.  Except day old human siblings don't peck at each others' faces.  Maybe they would if they had beaks, but luckily they don't.
Yesterday evening, I moved all five (yes, I know…  I opened the incubator again!) to the temporary brooder because they were all fluffy and dry at this point.  I quickly saw that my brooder is going to be too small if any other eggs hatched.  I'm very afraid that no others will hatch, though, because of my constant overbearingness.  And if they don't hatch, I'm confident it's because I killed them.
I started with fifteen, and I've still got five eggs left in the incubator, but I feel like hatching five of them is an accomplishment.  And next time, I'll keep the incubator closed.
Ok, I probably won't.