[***WARNING – if you have a weak stomach, skip this post***]
I don't often scare myself, but I might have just tipped the scales.
Obviously, everyone that knows me pretty well thinks I'm either crazy or…  Well, crazy in a weird, responsible way.  I'm not sure which camp would be right in this scenario.
Remember the free meat that literally fell at my doorstep?  Well, what I ate of it was really good!  Unfortunately, the rest of it was in the freezer in my garage, which one day decided to stop working.  🙁
I won't lie – I was very upset.  Lane and I spent a lot of time butchering that thing, and after it had been sitting in a room-temperature container for who knows how long, it was ruined.
I was complaining to my friends Walter and Matt about it.  Luckily, they happen to be a little crazy, too.  (Sorry for throwing both of you under the bus, guys, but you know it's true.)
"Why don't you raise maggots?," Walter asked with dead-pan seriousness.
I can't say that it had crossed my mind, even in my wildest off-grid homesteading dreams, but it made sense.  My chickens love eating little bugs, and these specific little bugs love rotting meat…  So, I started thinking about what I might do to start my own hobby maggot farm.
Around that same time, there was a little bit of uncooked chicken in our fridge that had gone bad, so I just tossed it and the deer meat in a bucket.  (Meat doesn't often spoil in our home – pretty much never, in fact – so maybe it was a little nudge from the Man upstairs to try this thing, eh?)  I hadn't thought much about my plan, so I left the bucket in the garage until I could figure out what to do with it.
I concocted a plan to basically construct an elaborate cage in the woods on the edge of my property, so that predators aren't attracted to rotting meat beside my living chickens.  I'd start with a tray at the bottom, then wire mesh that would allow maggots to fall through but would catch pieces of meat.  Above that I'd hang the meat, which would give greater surface area for the maggots to slip off and onto the tray.  Around that I'd put at least one sturdy cage (possibly two), so that animals couldn't get inside.  It would be a self-sufficient maggot factory after I hung up some old meat.
That was the plan, anyway.  The reality is that I left the bucket of rotting meat in my garage for weeks.
Yes.  It smells exactly as you would expect.  Every once in a while I would go into the garage, forgetting that I left the bucket in there, and would very quickly remember.  I'd step back outside, suck in a large amount of air, and then hold it in while I retrieved whatever I needed from inside.  Over time, I guess I just expected the garage to smell like that.
My wife didn't really know that was going on until while I was away from home one day I asked her to get something from the garage for me.  I received a text soon after that, which said she almost threw up after stepping into the building.  I texted back a smiley face with a halo above it.
At that point, I realized I should probably do something about it.  The first thing I realized was that I hadn't even asked my chickens if they specifically liked maggots.  Since my chickens don't speak English (despite what you might think from previous posts), I realized the only way to get that answer was to present those maggots to them.
So, one Saturday, the experiment continued.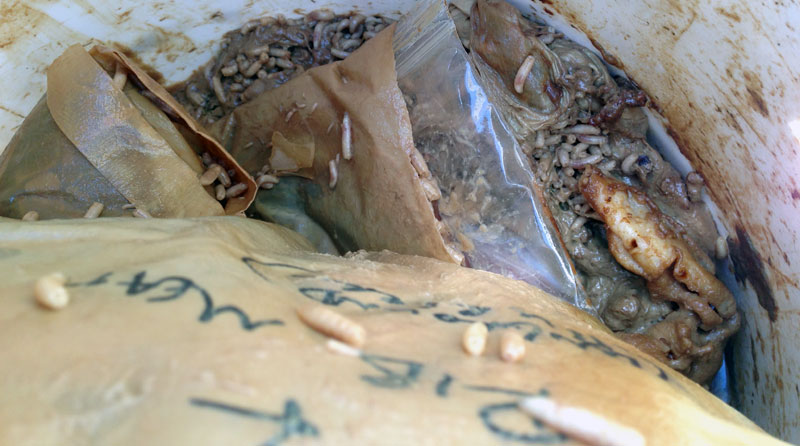 I opened the garage door to let it air out a bit and brought the bucket outside.  Sure enough, moving the meat around revealed a gob of the little squirmy things.  I could easily put my hand in and scoop a hundred up.
So, of course I did.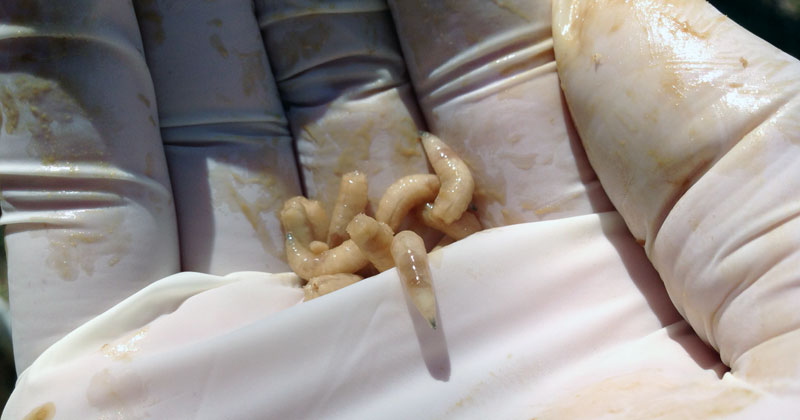 Yes, I realize there aren't a hundred in my hand, but it's hard to take a picture of a handful of maggots with the other hand holding a camera.  The little boogers were incredibly slimy, and I could feel them squirming through my fingers as soon as I picked them up.  It was disgusting.
I tossed a few to my chickens, and they were delighted!  If I threw a clump of maggots in front of them, they didn't really know what to do, but if there were stragglers outside of said clump, they didn't last very long before a beak would dispatch this from this world.  I assume the chickens' eyesight isn't so great, and a giant ball of pulsating slime probably isn't as appealing as an obvious gyrating worm.
Not long after I started doing this, I noticed at least a dozen vultures circling overhead.  It dawned on me then that that was the reason I'd been seeing a lot more of them perched in the trees on my property lately.  Lucky for humans, our sense of smell isn't nearly as ken as theirs, because I'd say that they had sniffed it from miles away.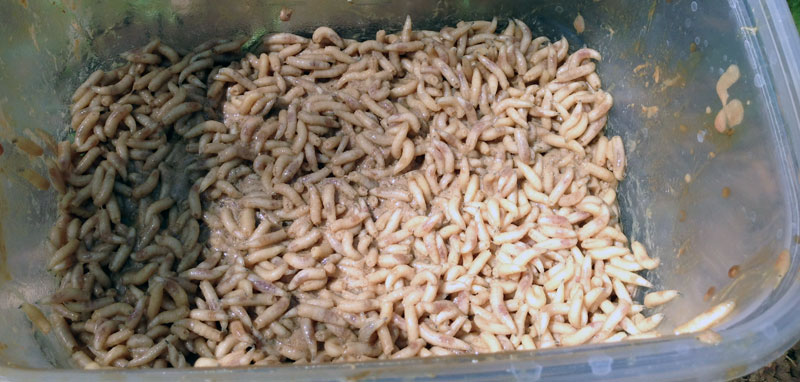 I continued to scoop the maggots into some tupperware, thinking I might store them to give them to my chickens over time.  But then I started to consider how would store them.  I suppose I can put them in the fridge, but I didn't know if that would kill them, or if they needed some meat with them to survive (and I didn't want to purposely make my fridge smell like rotting meat for the rest of it's existence).  So, I ended up giving all of the gathered maggots to the chickens, storing none.
Actually, I used the maggots to entice the chickens back into their coop, because I had to leave for the rest of the day and that was a lot easier than chasing after them.
And, yes, I put the bucket of rotting meat back in the garage.
Don't worry, though – I have a plan.