Sorry for the silence!  I've been busy with Christmas and lots of activities – most of which have been very on grid.  So, I figured I'd just post these notes (along with some pictures for context) that I found scratched inside of my chicken coop:
---
Day 149
I don't like our new house.  You can barely even call it that – it's bwaksicly a couple of boards that don't do a very good job of stopping the wind.  My boyfriend, Roo, says he'll keep me warm when it gets cold outside, but he says the same thing to Henrietta.  Heck, he said the same thing to that other chick that magically turned into a pile of feathers last week, and he didn't seem too concerned for her.  He scratched at the ground near her feathers for a little while, and I thought it was some sort of memorial service for her – but it turns out he was just digging up a stubborn bug.  Kind of makes me wonder if he'd miss me if I turned into a pile of feathers?  Oh well – he says he'll protect me, and why should I doubt him?
Farmer covered the sky up with something ugly.  I can't see the big glowing thing that Roo always crows at anymore, but it must still be there because he continues to crow.  All.  The.  Time.  To be honest, he's kind of annoying, and it seems like he's trying to flirt to the other hens that showed up last week and took over our old house.  But – I don't have many other options here…
Clucks and Scratches,
Peepnelopeep
---
Day 153
Stupid farmer woke us up last night, throwing food at us like animals.  Don't get me wrong, I really like the food.  But why not give it to us before we've perched for the night?  A strange white and gray cat that was in our playground and he ran around after it like an idiot.  It ran under the fence, and he hit it with a broken tree.  The white/gray cat ran off, and then Farmer made lots of noise putting stuff around the edges of the fence.  I don't know if that will keep the white cat out, but I think it just made him feel useful.  I don't think he has any purpose besides giving us food, so I'll try to patient with him.  I didn't sleep very well after that.
Clucks and Scratches,
Peepnelopeep
---
Day 155
Haven't seen Farmer in a couple of days.  Roo's been planning on "breaking out of this prison," and has been urging Henrietta and me to come along.  I don't think it's so bad here, but I guess I'll follow him.  It's not so easy, though, since Farmer and those other giants clipped our feathers.
Clucks and Scratches,
Peepnelopeep
---
Day 157
Well, we broke out of our 'prison' yesterday.  Roo ended up just circling around our old house the whole time we were out, flirting with the hens and pecking at the other guys.  It was a fairly depressing day, because I already felt like old news.  We perched on top of the old house, and at some point in the night I remember Farmer picking me up and throwing me back in the new house.  I woke up on my old (new) perch, barely remembering how I got there.  
Roo convinced us both to break out again this morning…  It didn't take Farmer long to find us because we were circling around the old house again.  He ran after all of us for quite a while, until someone put up a magical wall, and we were cornered.  Whatever – it's not that bad here.
Clucks and Scratches,
Peepnelopeep
---
Day 160
Roo is obsessed with getting out of our new house.  Every day we get out, and every day Farmer puts us back in with his magic wall.  The thing over the sky keeps falling into our playground, and Farmer keeps hammering it into the fence posts.  I guess guys just like to do the same thing over and over.  (Assuming Farmer is a male)
Clucks and Scratches,
Peepnelopeep
---
Day 165
I guess Roo finally took it too far with 'breaking out' every day…  Yesterday, he decided it would be funny to poop on Farmer's big red machine.  I told him he shouldn't, and he kept saying "don't call me a chicken."  I didn't know what he meant – of course he's a chicken.
Anyhow, Farmer has separated us.  He put Henrietta and me back into the old house when it was dark outside, but left Roo in the new house.  We didn't find out until the next morning, when Roo started his maniacal crowing at the glowing thing in the sky (which I can see again!).  I already miss him – kind of – but there are two guys in the old house that are kind of cute.
Clucks and Scratches,
Peepnelopeep
---
Day 167
Ugh – I hate it here!  Everybody here is a bully, even though Henrietta and I are older than all of them.  They call us names, peck at us, and chase us around the old playground.  And there's not a lot of room to get away.  Henrietta and I usually just go inside the house while the others are outside, and then when they come inside we go outside.  It's a lot easier to eat and drink without beaks constantly poking you.  When we are together, we usually just hide under the feeder.  Even the guys are being jerks.  At least when the other girls are around.  When I'm alone with one of them, they make me feel special.  But I hear them say the same things to all the girls.  And, bwaukbagok…  Roo is just crowing his head off.  Even more than usual.
There's one little hen with really ugly hair that we've been bullying, just to show them that we're not pushovers.  Yeah – I said hair.  It's so strange – she doesn't have many feathers.  She must be from out east.  Weirdo.
Clucks and Scratches,
Peepnelopeep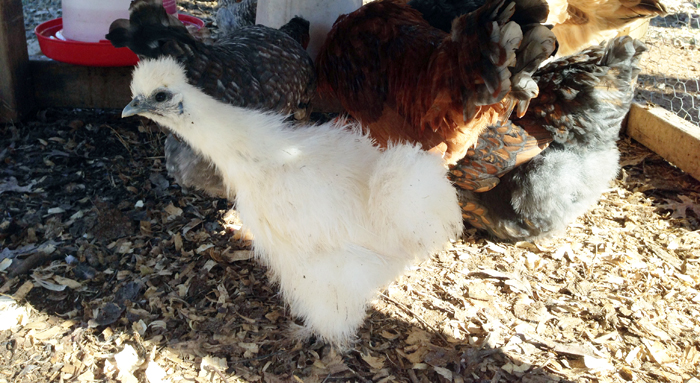 ---
Day 172
Roo stopped crowing today…  It was weird.  I heard him all morning, and then Farmer and a bunch of other giants went into the new house where Roo was.  Some of the giants were miniature, but they were definitely still giants.  They had all these shiny things with them and gathered around Roo for a while.  A little later, they walked back to Farmer's house with what looked like Roo – but he was completely naked so I looked away out of respect.  I should have looked, though, because Roo didn't crow when the glowing thing fell out of the sky, and now I'm wondering if he's still there or not.
Clucks and Scratches,
Peepnelopeep
---
Day 180
I haven't heard from Roo, and I wonder where he went, but I don't care much anymore…  I think Henrietta and I are finding our place.  These two guys are super sweet to me (like they are to all of us), and they don't crow nearly as much.  I guess I do have options after all.
Clucks and Scratches,
Peepnelopeep